Bio
A prolific singer-songwriter, Theresa Michelle Mohr's music is for people who need some encouragement, spirits lifted, a hug, a good cry, a laugh, or just some good vibes to relax with. Theresa is an indie rocker with a hue of country and a folk mentality. Her calm, generous nature, artfully rocking guitar, and expressive voice are an inviting combination. She uses a rich palette of warm tones, as well as images both bright and dark, drawn from Mother Nature and everyday life around her Northern B.C. home. Theresa creates memorable, meaningful, and compassionate musical portraits and landscapes. 
Theresa has been actively involved in the Northern BC music scene for more than fifteen years, performing at festivals, farmers markets, nonprofit and community events, as well as pubs and breweries. Her songs are regularly played on Smithers Community Radio, CICK 93.9fm, and CFUR Radio, 88.7fm .  
"…if she happens to be playing near you then I wouldn't miss it" Dan Weston(www.divideandconquermusic.com)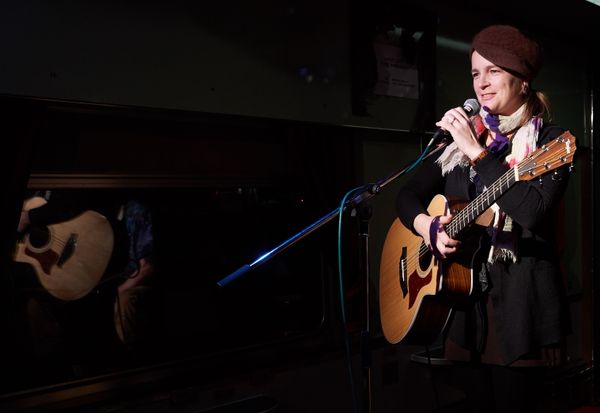 Theresa Michelle Mohr has a strong passion for all things playful and creative, but especially music, family, and helping people. She is a singer-songwriter and guitarist who creates engaging, widely relevant songs that lift the spirits even while talking about serious subjects. She sells her empathic, intuitive and encouraging music online, in person at live shows, and in conjunction with live-streamed performances.   
Theresa also works with groups of people in a teaching and self-development capacity (musical creativity, guitar, ukulele, voice, and song-writing). Her focus is on the importance of play, human emotion, images of Nature, and bridging the gaps between people, humbly linking across cultures, abilities and other differences, in order to support human health and well-being and the well-being of the Earth.      
Theresa has taught intermediate guitar and song-writing at Smithers Younger Guitar Camp for four years, as well as more than six years of private lessons with students of all ages and abilities.   
Theresa also ran a licensed family day care for five years, and has eighteen years of experience working as a front-line social worker and program manager, working therapeutically one to one and with groups with people. She is mother of two young adults, one of whom has a developmental disability. She's also a grandmother of two young girls. Theresa draws from her wealth of musical experience, as well as caregiving, counselling, coaching and management knowledge and skills to provide music sessions and lessons that focus on the unique strengths, needs and goals of individual participants, one to one or within a group. 
And a little bit more...
... about this person who likes to wear a bear suit she made for herself...
Theresa was born in Terrace, British Columbia. She's lived in Terrace, Smithers, Telkwa, Houston, Alice Arm, Kitchener (Ontario) and Riverview (New Brunswick). She is a little on the shy, quiet side and likes to read a lot. She's also addicted to being outside with Mother Nature (gardening, camping, canoeing, riding a bike, skiing and hiking).  Most people say she is a good listener, although, as a child, her school teachers often commented on her capacity to day dream. Theresa has tried hard to keep her own identity and artistic activities over the years of raising her two kids, especially throughout the challenges of having a child who has a disability. Like any caregiver, Theresa is no stranger to putting others' needs first. She strives to support others and make a positive contribution, both in her immediate family, in the music community, and the community at large. She is also a visual artist, and will hopefully have more time to draw and paint when she's written a few hundred more songs and the grandkids are a little older (she is actively involved in the care of the next generation). Theresa is also deeply concerned about the state of the environment and how society cares for its vulnerable ones. She aims to infuse her songs with knowledge gained from training and experience as an ally to others, helping others to help themselves. She shares a message of life-long learning, cultural humility, compassion and care for ourselves, others and the environment.